KS, KL BEAM DEFINITION

(schematic)
Both the KL and KS beams are produced in 400 mm long Beryllium targets, followed by collimators that define the acceptance. In the figure and tables below, we show schematically the quantities involved and we give the relevant formulae and parameters. The original calculations for the proton beam emittances are compared with the observed values in 1997 and 1998.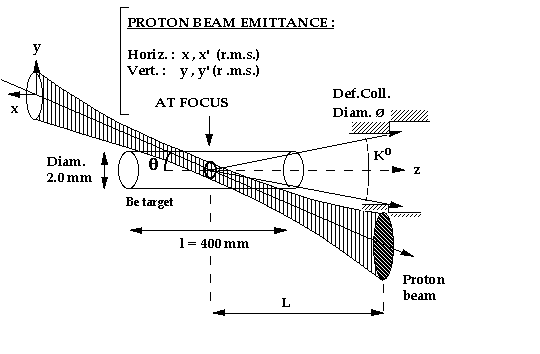 The uncertainty on the coefficient in the exponential with the p2theta2 term is of the order of ±0.3.
VALIDITY

BEAM

HORIZONTAL
RMS

VERTICAL
RMS

CENTRAL
PRODN ANGLE

L

APERTURE

x (mm)

x' (mm)

y (mm)

y' (mm)

Theta (mrad)

(m)

Phi (mm)

Model

KL :
0.2
0.4
0.3
0.1
2.4
40.62
12.2
KS :
0.2
0.02
0.3
0.1
-4.2
4.80
3.6

1997

KL :
0.13
0.35
0.16
0.15
2.4±0.06
40.62
12.2
KS :
0.22
0.013
0.20
0.13
-4.2±0.10
4.80
3.6

1998

KL :
0.11
0.52
0.15
0.16
2.4±0.06
40.62
12.2
KS :
0.29
0.020
0.20
0.12
-4.2±0.10
4.80
3.6

1999

KL :
0.10
0.7
0.17
0.13
2.4±0.06
40.62
12.2
KS :
0.3
0.02
0.3
0.15
-4.2±0.10
4.80
3.6
---
Niels Doble, last updated on 3 April 2000